Immigration Lawyers for Permanent Labor Certification (PERM) | Section 212 of the Immigration & Nationality Act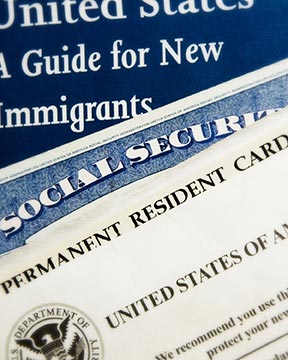 Permanent Labor Certification, or PERM, is permission from the Department of Labor (DOL), which allows an employer to hire a worker for permanent employment in the United States. Under Section 212 (a)(5)(A) of the Immigration and Nationality Act, foreign workers who seek to immigrate to the United States for employment "shall be excluded from admission unless the Secretary of Labor determines and certifies to the Secretary of State and to the Secretary of Homeland Security that there are not sufficient U.S. workers available for the position, and that the employment of such foreign workers will not adversely affect the wages and working conditions of U.S. workers similarly employed."
To obtain permanent residence through this employment sponsorship, an applicant must go through three distinct phases in the application process.
First, the applicant must get labor certification approval. This requires the employer to obtain an approved labor certification request from the DOL's Employment and Training Administration (ETA). The DOL will then certify to the United States Citizenship and Immigration Services (USCIS) that there are:
no qualified U.S. workers able, willing, qualified and available to accept the job at the prevailing wage for that occupation in the area of intended employment and
that employment of the alien will not adversely affect the wages and working conditions of similarly employed U.S. workers.
After certification from the DOL has been obtained, the USCIS must approve the immigrant worker petition. At this stage, the employer will be required to demonstrate the company's ability to pay the prevailing wage, which may require submission of the company's financial statement or tax returns.
Lastly, the third step in the approval process is a consular processing abroad or "adjustment of status" to permanent residence in the United States. In this final phase, emphasis will be based on the employee's overall qualifications to immigrate to the United States, such as whether the employee has a criminal record in his native land, whether the employee has a contagious disease, or similar concerns that may impact his or her ability to immigrate to the United States.
Can a US Immigration Lawyer help the dependents of the applicant?
Spouses and unmarried minor children (under 21 years of age) must maintain their independent status. The spouse and children will be able to immigrate as dependents only if they apply along with the primary applicant. If, however, the children are over 21 at the time the applicant immigrates to the United States, they may need to qualify for status in their own right.
Does the employer have any duties to maintain records of the employment?
Yes. The employer is required to retain all supporting documentation for five (5) years from the date of filing the Application for Permanent Employment Certification.
Headquarters Office:
Leticia Sierra
Office of Foreign Labor Certification,
National Office 200 Constitution Avenue, NW, Room C-4312,
Washington, District of Columbia 20210
Email: sierra.leticia@dol.gov
Phone: (202) 693-3010
Fax: (202) 693-2768
If you are a foreign national seeking entry into the United States through an immigration service such as an PERM (Permanent Labor Certification), please fill out the questionnaire on this site and an experienced immigration lawyer will contact you regarding your particular immigration matter. There is no obligation created by your submission of information. Immigration lawyers and law firms are available at all hours and will contact you to assist with any immigration concerns that you may have.
Contact a USA Immigration Lawyer

◊

Se

Habla

Español
It is important to remember that Immigration laws are some of the most difficult and complex regulations in U.S. law, and often require a competent United States immigration attorney to interpret. If you need help determining whether your claim fits under any of these laws, a USA immigration attorney or USA immigration law firm can assist with not only services such as immigration appeals and USCIS applications, but also with work permits, family visas, student visas, physician and nurse visas, visitor visas, adjustment of status, green card replacement and renewal, removal of conditions, deportation hearings, asylum, removal hearings, and citizenship or naturalization. Additionally, a USA Immigration Law firm or immigration attorney could help with employment visas such as PERM, EB-1, EB-2, EB-3, EB-4, EB-5, Intra-Company Visas, Non-Immigrant Visas, H-1B, E, E-3, H-2B, O, P, Q, R, or TN. To discuss your immigration issues, immigration questions, for more information or to schedule an appointment with an experienced immigration lawyer, please fill out the form listed on this web page and an immigration law firm will contact you.