Immigration Appeals Lawyers | Visa Denial Lawyer | Denied Visa Attorney
Contrary to what you may think, if your application for a visa was rejected, your petition for asylum was not granted, or if you lost your deportation hearing, your dream of living and working in the United States is still within reach. In fact, many foreign nationals whose petitions or applications were denied, subsequently have their request granted after a successful appeal. USA immigration attorneys and USA immigration law firms are capable of presenting your appeal in the best possible light, making your dream of becoming a U.S. citizen or resident a reality.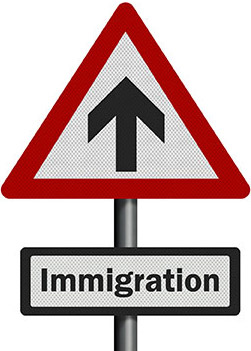 Generally, when an application or petition has been denied, an appeal must be filed within 30 days of the original decision. Ultimately, following an appeal, the reviewing court or authority will make one of the following determinations:
Uphold the original decision
Reverse the original decision, or
Remand the case back to the original adjudicator so that further action can be taken.
United States immigration lawyers are qualified to handle your case before the USCIS Administrative Appeals Office, the U.S. Board of Immigration Appeals, the Board of Alien Labor Certification Appeals, and in federal district and appellate courts. A U.S. immigration attorney or immigration law firm is capable of bringing your appeal before any court in your area, as well as the following national immigration offices:
Office of Legislative and Public Affairs
5107 Leesburg Pike, Suite 1902
Falls Church, VA 22041
Phone: 703-305-0289
Fax: 703-605-0365
Board of Immigration Appeals
Office of the Chief Clerk
5107 Leesburg Pike, Suite 2000
Falls Church, VA 22041
What is the Board of Immigration Appeals (BIA)?
The Board of Immigration Appeals, or more commonly BIA, is the highest administrative body for interpreting and applying immigrations laws. The Board of Immigration Appeals consists of fifteen board members, including the chairmen and vice chairmen, who are responsible for sharing BIA management. BIA headquarters are located in Falls Church, Virginia, and, although the BIA does not conduct courtroom proceedings, it decides appeals by conducting a "paper review" of appeals that are submitted before it. On rare occasions, however, the BIA will hear oral arguments of immigration appeals, usually at the headquarters in Falls Church. The BIA has nationwide jurisdiction to review immigration decisions that have been rendered by immigration judges and by district directors of the Department of Homeland Security against aliens, citizens, or businesses.
BIA decisions are binding, not only on the parties involved, but also on all DHS officers and immigration judges, unless modified or overruled by the Attorney General or a federal court. Most BIA decisions are subject to judicial review in the federal courts. The majority of appeals reaching the BIA involve orders of removal and applications for relief from removal. However, other cases that go before the BIA include:
the exclusion of aliens applying for admission to the United States;
petitions to classify the status of alien relatives for the issuance of preference immigrant visas;
fines imposed upon carriers for the violation of immigration laws;
motions for reopening and reconsidering decisions previously rendered.
Contact a USA Immigration Lawyer

◊

Se

Habla

Español
It is important to remember that immigration laws are some of the most difficult and complex regulations in U.S. law, and a competent United States immigration attorney is often required to interpret this body of law. If you need help determining whether your claim fits under any of these laws, a USA immigration attorney or USA immigration law firm can assist with not only services such as immigration appeals and USCIS applications, but also with work permits, family visas, student visas, physician and nurse visas, visitor visas, adjustment of status, green card replacement and renewal, removal of conditions, deportation hearings, asylum, removal hearings, and citizenship or naturalization. Additionally, a USA Immigration Law firm or immigration attorney could help with employment visas such as PERM, EB-1, EB-2, EB-3, EB-4, EB-5, Intra-Company Visas, Non-Immigrant Visas, H-1B, E, E-3, H-2B, O, P, Q, R, or TN. Call or contact us for a free consultation to discuss your immigration issues or questions. For more information or to schedule an appointment with an experienced immigration lawyer, please fill out the form listed on this webpage. Immigration lawyers and law firms are available at all hours and will contact you to assist with any immigration concerns that you may have.