Immigration Attorneys for Vietnamese Immigrants | Vietnam & Vietnamese Visa Lawyer | Vietnamese Immigration Lawyer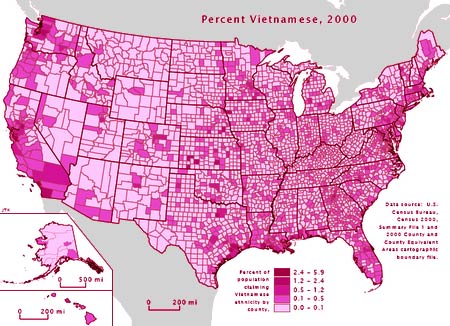 History of Immigration from Vietnam
Vietnamese immigration to the United States is a fairly recent phenomenon. In fact, the first major wave of Vietnamese immigrants to the U.S. occurred as recent as 1975. Prior to 1975, most of the Vietnamese people living and residing in the United States were spouses and/or children of American servicemen in Vietnam. On April 30, 1975, the event known as "the fall of Saigon" ended the Vietnam War and the first wave of immigration from Vietnam commenced.

Vietnamese & Vietnam Immigration Lawyer
Many Vietnamese people, especially those that worked closely with Americans during the Vietnam War, feared that their lives were in danger. Thus, in order to escape reprisal form the Communist Party, 125,000 Vietnamese citizens departed Vietnam during the Spring of 1975. Most were either airlifted or fled on cargo ships, and were then transferred to U.S. government bases in Thailand, Wake Island, Hawaii, Guam, or the Philippines. This initiative was called "Operation New Life." After arriving in the United States, there were an additional four refugee centers in Camp Pendleton in California, Fort Chaffee in Arkansas, Eglin Air Force Base in Florida, and Fort Indiantown Gap in Pennsylvania

Not surprisingly, the Vietnamese population was not immediately welcomed by the rest of the U.S. population. In fact, a poll taken in 1975 showed that only 36% of Americans were in favor of Vietnamese migration to the United States. However, the Ford Administration adamantly supported the Vietnamese population and passed the Indochina Migration and Refugee Act of 1975, thereby establishing a program of domestic resettlement assistance for refugees of Vietnam and/or Cambodia.

The second wave of Vietnamese immigration to the United States came just two years later in 1977 and lasted until the mid 1980s. This wave commenced as the new communist government implemented a series of economic, political, and agricultural policies, which included the torture of former South Vietnamese military personnel and those in favor of the South Vietnamese cause. Many of these policies forced mass relocation of citizens from urban to rural areas that were previously uncultivated or ruined during the war. It was during this time that approximately two million Vietnamese fled to asylum camps in Thailand, Malaysia, Singapore, Indonesia, the Philippines, or Hong Kong while awaiting acceptance by foreign countries. At that time, Congress passed the Refugee Act of 1980, which reduced barriers to entry into the United States. The Act also provided a definition of the term "refugee," created the Office of Refugee Resettlement, set the number of refugee admissions at 50,000 per year (except in cases of an emergency), and allowed a refugee to adjust his or her status after one year to become a permanent resident and, after four or more years, to become a United States citizen.
Present Day Vietnamese in the United States
Since almost all Vietnamese immigration has occurred relatively recently, most Vietnamese Americans are either first or second generation Americans. As many as one million people who are five years and older speak Vietnamese at home—making it the seventh-most spoken language in the United States. As refugees, Vietnamese Americans have some of the highest rates of naturalization. In the 2006 American Community Survey, 72% of foreign-born Vietnamese are naturalized US citizens; this combined with the 36% who are born in the United States makes a total of 82% of Vietnamese living in the country United States citizens. Of those born outside the United States, 46.5% entered before 1990, 38.8% between 1990 and 2000, and 14.6% entered after 2000.

Vietnamese immigrants are spread throughout the entire United States, but have established strong ties in several specific areas. For example, the largest number of Vietnamese people found outside of Vietnam is in Orange County, California. Orange County Vietnamese total 135,548. Additionally, Vietnamese American businesses are thriving in areas throughout the country. States such as New York, Louisiana, Pennsylvania, Massachusetts, Illinois, Minnesota, Washington, Florida, Virginia, and Rhode Island have fast growing Vietnamese populations, while the San Francisco Bay Area, Seattle metropolitan area, Dallas - Fort Worth metropolitan area, Northern Virginia, Los Angeles metropolitan area, and the Houston metropolitan area all have sizable Vietnamese communities. Recently, however, the Vietnamese immigration population has shifted to other states, including Oklahoma (Oklahoma City in particular) and Oregon.
Contact Us
If you are a Vietnamese person seeking entry to the United States through one of the U.S. government's immigration services, please fill out the questionnaire on this page and an experienced immigration lawyer will contact you regarding your particular immigration matter. There is no obligation created by your submission of information. Immigration lawyers and law firms are present at all hours and will contact you to assist with any immigration concerns that you may have.