Immigration Lawyer for Physician Visas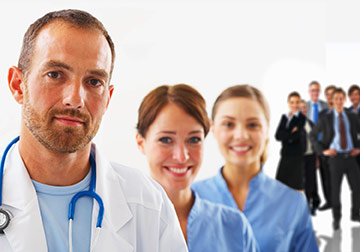 Physicians who were born outside of the United States are allowed to work in the U.S. if they have: (1) Permanent Resident Status, or (2) a temporary working permit. Experienced US immigration lawyers and US immigration law firms are capable of explaining the many visa options available to physicians, including the J Visa Waiver Program, H-1B status for physicians, and permanent residence for physicians.
Temporary Working Permit: The H-1B Visa for Physicians
A foreign-born physician may obtain an H-1b visa, allowing them to work in the United States, in two scenarios: (1) if the physician has been invited to do research or teach at a public or nonprofit private academic institute in the U.S., or (2) if the physician has been offered a job performing direct patient care as a physician.
If the physician is planning on entering the United States to perform direct patient care, his/her employer will be responsible for petitioning the government for the visa. Employers must prove that the applicant is qualified by showing proof that the applicant has passed the Federation Licensing Examination (FLEX) as well as an English proficiency test given by the Education Commission for Foreign Medical Graduates. Note that if the applicant is a graduate of a medical school accredited by the U.S. Department of Education, this language proficiency exam is not required. Additionally, a physician must have either graduated from an American medical school or have a full and unrestricted license to practice medicine abroad.
Many states also require the physician to have completed a medical residency in the United States prior to being admitted. However, it is possible that the residency requirement be completed if the applicant first entered in the United States as a nonimmigrant exchange visitor under the J-1 visa program. Under the J-1 visa, there is a two year home residency requirement for physicians. Thus, foreign-born physicians must return to their country of origin for two years after having completed their residency in the U.S. Understanding which foreign citizens qualify for the physician H-1B visa can be complex and confusing. However, USA immigration lawyers and USA immigration law firms are well-equipped to assist you by explaining whether you qualify for the H-1B visa or any other visa option, including greencards, work permits, or permanent residence. If you are in need of assistance from US immigration attorneys, please fill out the form below.
Green Cards for Physicians
The other, more favorable option for most physicians is obtaining permanent resident status, or a "green card." Obtaining a green card eliminates the need to renew any temporary visas, giving a foreign-born physician more freedom to pursue other fields or employment as well as United States Citizenship.
Essentially, there are four different ways in which a foreign-born physician may attain permanent resident status in the U.S. They are:
Extraordinary Ability: the physician must prove that he/she is "one of the few who has risen to the top of his [or her] field," either nationally or internationally.
Outstanding Researcher/Professor: foreign born physician must have at least three years of teaching or research experience. Furthermore, he/she must enter the U.S. to work in a tenure-track teaching or research position at an institution of higher learning or for a public or private research lab.
Labor Certification (PERM): process whereby the U.S. Department of Labor certifies that there is a shortage of minimally qualified U.S. workers for the position offered and the offered employment does not adversely affect the wages and working conditions of U.S. workers
National Interest Waiver for Physicians: immigrant must hold an advanced degree (master's degree or equivalent, or higher) and be a member of the medical profession, or show that he or she has exceptional ability.
If you are a nurse or physician seeking entry to the United States to live or work, please fill out the questionnaire below and an experienced immigration lawyer will contact you regarding your particular immigration matter. There is no obligation created by your submission of information. Immigration lawyers and law firms are available at all hours and will contact you to assist with any immigration concerns that you may have.
Contact a USA Immigration Lawyer

◊

Se

Habla

Español
It is important to remember that immigration laws are some of the most difficult and complex regulations in U.S. law, and a competent United States immigration attorney is often required to interpret this body of law. If you need help determining whether your claim fits under any of these laws, a USA immigration attorney or USA immigration law firm can assist with not only services such as immigration appeals and USCIS applications, but also with work permits, family visas, student visas, physician and nurse visas, visitor visas, adjustment of status, green card replacement and renewal, removal of conditions, deportation hearings, asylum, removal hearings, and citizenship or naturalization. Additionally, a USA Immigration Law firm or immigration attorney could help with employment visas such as PERM, EB-1, EB-2, EB-3, EB-4, EB-5, Intra-Company Visas, Non-Immigrant Visas, H-1B, E, E-3, H-2B, O, P, Q, R, or TN. Call or contact us for a free consultation to discuss your immigration issues or questions. For more information or to schedule an appointment with an experienced immigration lawyer, please fill out the form listed on this webpage. Immigration lawyers and law firms are available at all hours and will contact you to assist with any immigration concerns that you may have.