Immigration Lawyers for Registered Nurse Green Cards
A registered nurse traveling to the United States may be eligible for a Permanent Residence. This "Registered Nurse" immigrant visa requires all applicants to obtain a visa to work and live in the United States if the purpose of their visit is for employment at a U.S. healthcare facility. In order to qualify for the registered nurse immigrant visa, the applicant must be a registered nurse (RN) who is licensed to practice professionally in his/her home country.
Additionally, the visa recipient may need to obtain a license to practice in the state for which he/she will working. However, some states do not have this requirement, likely because it is possible to take the licensing examination (NCLEX) abroad in places such as Australia (Sydney), Canada (Montreal, Toronto and Vancouver), Great Britain (London), Hong Kong, India (Bangalore, Chennai, Hyderabad, Mumbai and New Delhi), Japan (Chiyoda-ku and Yokohama), Korea (Seoul), Germany (Frankfurt), Mexico (Mexico City), the Philippines (Manila), and Taiwan (Taipei). In addition, registered nurses may take the NCLEX in Guam, Puerto Rico, and Saipan. Moreover, the U.S. government may require the foreign nurse applicant to meet certain health and character requirements, such as proficiency in the English language. Although the immigration application procedures for nurses immigrating to the United States may be difficult, a USA immigration lawyer or USA immigration law firm can help with each step of the immigration process. If you think you need help with your USCIS application or immigration appeals, please fill out the form below and an immigration lawyer or immigration law firm will contact you.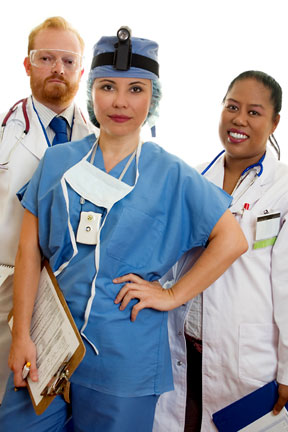 Once the RN has signed and completed all forms, he or she will need to interview for permanent residence in the United States. At the interview, the nurse must present the following documents:
Application for Immigrant Visa
Police Clearance
Birth Certificate
Marriage Certificate, if any
Divorce or Death Certificate of Spouse, if any
Valid Passport
Medical Examination
USCIS photographs
Recent job offer letter (or employment contract)
Financial information regarding employer
Government filing fee
VisaScreen Certificate
Is there a cap on the number RN green cards which can be granted?
Yes. Nurses fit into a category of green cards with specified quotas. Once this number is met, there may be a backlog, in which case the United States government may choose to suspend the program until a later date or year.
What about an applicant's family?
Spouses and unmarried children (that are under the age of 21) who wish to accompany or join the visa holder in the United States may obtain a relevant derivative visa.
What are the passing scores required for English exams?
Passing scores for Registered Nurses on English exams are:
IELTS: Academic Module or the General Training Module 6.5, Overall Band Score, 7.0 Speaking
TOEFL: Paper-Based 540; TOEFL Computer-Based 207; Test of Written English (TWE) 4.0; Test of Spoken English (TSE) 50.
TOEIC: 725; plus TWE: 4.0 and TSE: 50
If you are a nurse or physician seeking entry to the United States to live or work, please fill out the questionnaire below and an experienced Immigration lawyer will contact you regarding your particular immigration matter. There is no obligation created by your submission of information. Immigration lawyers and law firms are available to address your issues at all hours and will contact you to assist with any immigration concerns that you may have.
Contact a USA Immigration Lawyer

◊

Se

Habla

Español
It is important to remember that immigration laws are some of the most difficult and complex regulations in U.S. law, and a competent United States immigration attorney is often required to interpret this body of law. If you need help determining whether your claim fits under any of these laws, a USA immigration attorney or USA immigration law firm can assist with not only services such as immigration appeals and USCIS applications, but also with work permits, family visas, student visas, physician and nurse visas, visitor visas, adjustment of status, green card replacement and renewal, removal of conditions, deportation hearings, asylum, removal hearings, and citizenship or naturalization. Additionally, a USA Immigration Law firm or immigration attorney could help with employment visas such as PERM, EB-1, EB-2, EB-3, EB-4, EB-5, Intra-Company Visas, Non-Immigrant Visas, H-1B, E, E-3, H-2B, O, P, Q, R, or TN. Call or contact us for a free consultation to discuss your immigration issues or questions. For more information or to schedule an appointment with an experienced immigration lawyer, please fill out the form listed on this webpage. Immigration lawyers and law firms are available at all hours and will contact you to assist with any immigration concerns that you may have.